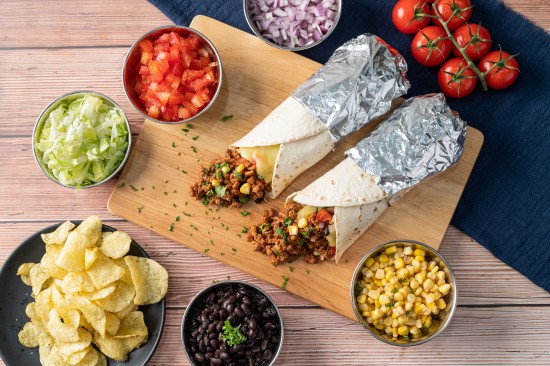 Beef Burrito

30 mins

3 SERVINGS
INGREDIENTS
1 packet of Sadia Minced Beef
1/2 tbsp olive oil
2 garlic cloves minced
½ onion , finely chopped
1 tbsp tomato paste
1 tbsp water

For the burritos:
3 large tortillas
1 and 1/2cups cooked rice , warm not piping hot
2 cups iceberg lettuce , finely sliced
1/2 cup corn kernels
1/2 cup black beans
2 tomatoes, deseeded and diced
1/2 red onion , finely chopped
Finely chopped coriander / cilantro (optional)
100g shredded cheese of choice (melting kind)

Burrito Seasoning:
1/2 tsp each onion powder , dried oregano, salt
1 tsp each dried cumin powder , paprika
1/4 tsp black pepper or to taste
1/4 tsp cayenne pepper , or to taste (optional)
METHOD
Heat oil in a frying over high heat. Add garlic and onion, cook for 2 minutes until onion is lightly browned. Add beef and cook, breaking it up as you go, until it turns from red to brown.
Add burrito seasoning and cook for 1 minute. Then add tomato paste and water, cook for 3 minutes until the water is mostly evaporated but the beef is still juicy, not dried out. Set aside to cool for 10 minutes – piping hot filling will steam the burrito, making the tortilla soggy.
Heat up the tortillas for about 10 seconds in the microwave to make them easier to work with.
Place a burrito on a work surface. Place 1/4 - 1/3 cup of rice just below the centre. Top with 1/4 - 1/3 cup beef, then some lettuce, corn, black beans, tomato, a sprinkle of red onion, coriander and cheese.Fold up the bottom to cover the filling then fold the edges in.Roll up tightly, then wrap in foil (optional).
Beef Minced
Popular Recipes