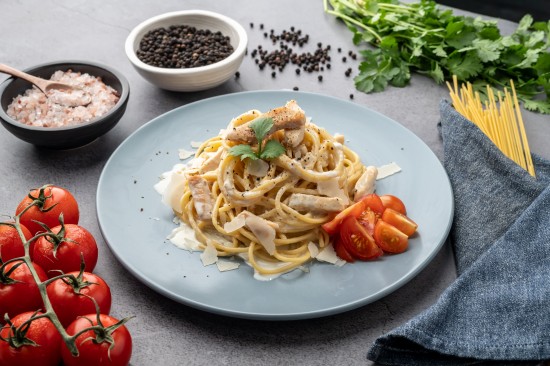 Cheesy Creamy Chicken Spaghetti

30 min

2 SERVINGS
INGREDIENTS
Chicken brine:
1 packet Sadia Chicken Breast Strips
1 tbsp salt
1/2 tbsp black pepper
4 tbsp water

2 servings of choice of pasta (refer to packaging)
2 tbsp olive oil
2 garlic cloves
4 cups Milk
4 tbsp cream
Chopped cherry tomatoes
1 cup grated parmesan cheese
METHOD
In a bowl, add 4 tbsp water, 1/2 tbsp salt and 1/2 tbsp black pepper to chicken breast and let marinate for at least 5 min.
In a deep frying pan (or wide pot), heat olive oil and add minced garlic. Stir fry till fragrant then add chicken breast and cook till golden. Set aside chicken breast.
In the same pan, add in chopped tomatoes and saute.
Add milk and cream and bring to a boil.
Add choice of pasta, grated parmesan cheese and pinch of salt. Mix well, cover pan and let simmer on medium heat till pasta is al dente.
When pasta is cooked and the sauce has reduced, add chicken and mix well. Add salt and black pepper to taste and serve with more grated cheese.
Chicken Breast Strips
Other Recipes
30 mins

2 SERVINGS

30 mins

3 SERVINGS
Popular Recipes