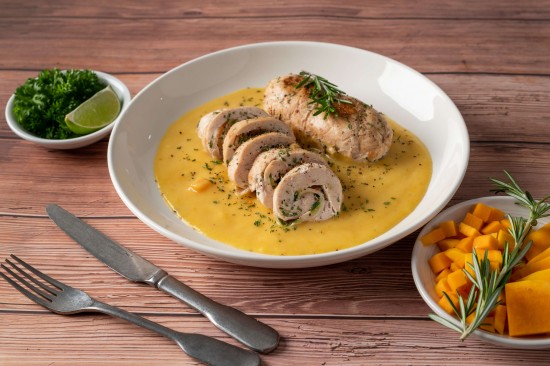 Chicken Herb Roll with Pumpkin Puree

30 mins

4 SERVINGS
INGREDIENTS
For the Chicken:
320g chicken breast
160g zucchini, sliced
1/4 tsp salt
1/4 tsp pepper
5g thyme, fresh
5g rosemary, fresh
Cling wrap

Soup:
160g yellow pumpkin
4 tbsp vegetable stock
40g onion
METHOD
1. Preheat oven to 230℃. Place chicken breast between cling wrap and pound until flat.
2. Place zucchini, salt and pepper, thyme and rosemary on top of chicken breast.
3. Roll chicken breast with ingredients and secure with toothpicks at the side.
4. Remove the cling wrap. Place chicken in a lightly greased baking dish. Bake for 10-15 minutes, until chicken is nicely browned.
5. Steam yellow pumpkin until soft, then blend with vegetable stock and onions.
6. Slice chicken roll and serve on a plate with pumpkin puree at the side.
One by One Chicken Breast (Skinless)
Popular Recipes