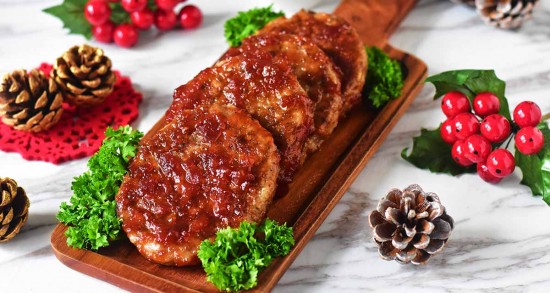 Chili Cranberry Steak

25 mins

8 SERVINGS
INGREDIENTS
Sadia Primo Beef Burgers
1 can (397g) Jellied Cranberry Sauce
¼ cup chili sauce
Water as needed
Parsley to garnish (optional)
METHOD
Slice cranberry jelly into thinner pieces.
Heat pan on medium heat and grease with cooking spray.
Pan-fry beef patties for 4 minutes each side.
Remove and set aside.
Wipe pan, heat on medium-low.
Add cranberry jelly and break it up into a thick sauce with spatula.
Add chili sauce, and a splash of water to get your desired consistency.
Stir to combine.
Return beef patties to pan, and generously coat both sides with cranberry sauce.
Remove from heat, and serve garnished with parsley.
Probably one of the simplest recipes you'll find, even a novice will be able to pull this off. Even though simple, these steak patties are flavour-packed! All thanks to Sadia's pre-seasoned premium meat patties that came beautifully shaped for easy cooking. I feel good to know that the patties are made with 70% meat, and I'm not just feeding fillers to my family & guests. The patties were moist and tender after cooking, and pairs extremely well with the sweet and spicy cranberry sauce. Prefer meatballs instead? Simply reshape the meat patties into meatballs, brown it on a frying pan, then coat them in the sauce.
Primo Beef Burger with Black Pepper & Onion
Popular Recipes