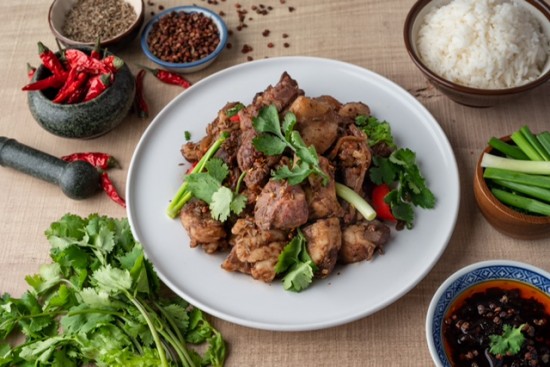 Chinese Cumin and Lamb Stir-Fry

25 mins

2 to 4 SERVINGS
INGREDIENTS
300g lamb fillet
15g cilantro
1/2 onion, sliced finely
1/2 red chilli, chopped finely
1 clove garlic, chopped finely
20g ginger, chopped finely
1 tbsp ground cumin, divided
1/4 tsp baking powder
1 tbsp starch
1/4 tsp chicken broth, powder
1/4 tsp salt
Oil

For serving:
1 tsp ground coriander, chopped
1/2 tsp chilli bean paste
METHOD
1. Place mutton cubes in a bowl and mix with some cumin, baking powder, starch, chicken broth and salt.
2. Heat oil in a large pot over medium heat and fry lamb for approximately 3 mins, or until browned. Set aside.
3. Heat oil in a wok over some medium-high heat. Add onion, chilli, garlic, ginger, ground coriander and remaining ground cumin. Fry for approximately 2 mins, until fragrant.
4. Add chilli bean paste and cook for another minute.
5. Add fried lamb and briefly stir to mix. Then, transfer to a plate and serve with chopped cilantro and rice on the side.
Mutton Cubes
Popular Recipes