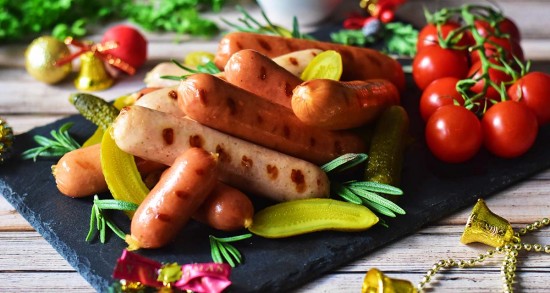 Christmas Sausage Platter

25 mins

8 SERVINGS
INGREDIENTS
Sadia Classic BBQ Sausage, 1 pack
Sadia Viennese Classic Sausage, 1 pack
Sadia Smoked Gouda Sausage, 1 pack
Sadia Smoked Mozzarella Sausage, 1 pack
100g pickled cucumbers
300g tomatoes on the vine
Dijon or wholegrain mustard for serving
Fresh rosemary sprigs to garnish (optional)
METHOD
Slice pickled cucumbers into half, lengthwise.
Heat grill pan on medium high heat and lightly grease with cooking spray.
When pan is hot, reduce heat to medium and add sausages to grill rolling it to grill all sides, about 5-7 minutes total. Cook in batches if needed.
Remove from heat and set on serving plate.
On the same grill, add tomatoes on the vine, cover, and grill until sweet and to your preferred tenderness, about 8 minutes (longer for more tender tomatoes).
Serve grilled sausages with prickles, grilled tomatoes, and garnish with rosemary.
A sausage platter is an instant crowd pleaser no matter the age! It was great to find out that Sadia's sausages are made with real herbs and spices with no artificial flavouring and colouring. Smoked sausages are naturally wood smoked, and the flavours come through with each bite. Stealing the show was the oozing melted cheese encased in the smoked mozzarella sausages. Picking a favourite would be a challenge on this platter!
Smoked Gouda Chicken & Beef Sausage
Smoked Mozzarella Chicken Sausage
Viennese Classic Sausage
Rosemary Lamb Sausage
Popular Recipes