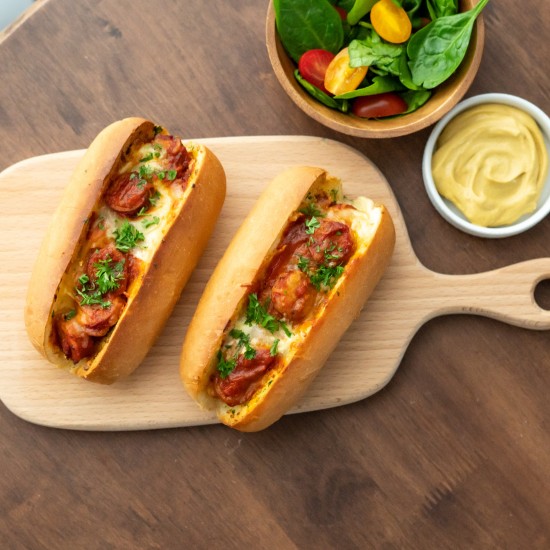 Garlic Butter Sausage Subs

5 mins

SERVINGS
INGREDIENTS
1 pack Smoked Gouda Chicken & Beef Sausage
57g unsalted butter, room temperature
2 cloves garlic, finely grated
15g freshly chopped parsley
1/4 tsp kosher salt
4 sub rolls
1 tbsp extra virgin olive oil
450g marinara sauce
85g mozzarella cheese, shredded
5g basil leaves, thinly sliced
METHOD
Preheat oven to 230°C. In a small bowl, combine the butter with garlic, parsley and salt.
Split the rolls lengthwise, leaving a hinge on the back and place on a rimmed baking sheet. Spread in the rolls with butter mixture. Bake until golden, about 8 minutes.
Meanwhile, chop the sausages into bite-size pieces. Then, heat oil in a large skillet and add in the sausages. Stir occasionally and cook until golden brown, about 7 minutes.
Then add in marinara sauce and cook, stirring until warmed throughout for about 2 minutes.
Spoon sausage mixture onto toasted rolls and top with cheese. Return to the oven and cook until cheese is melted and toasted, about 7 minutes.
Finally, top it up with a sprinkle of basil leaves and serve it hot!
Smoked Gouda Chicken & Beef Sausage
Popular Recipes