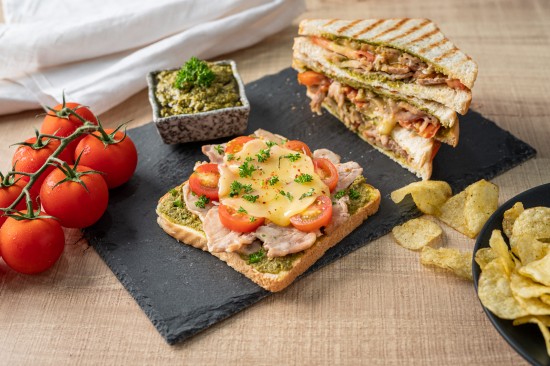 Grilled Chicken Pesto Sandwich

25 mins

2 SERVINGS
INGREDIENTS
For the Sandwiches:
1 packet of Sadia chicken shabu shabu
6 slices of bread
4 Slices of cheese
1 Tomatoes, sliced
Prepared Pesto
1 tbsp olive oil (or vegetable oil)

For the Pesto:
2 cups Fresh Basil, firmly packed
1/4 cups Pecorino Romano Cheese, grated
1/4 cups Pine Nuts (optional)
3 Cloves Garlic
2 tbsp. Extra Virgin Olive Oil
1/2 tsp. Salt
1/4 tsp. Black Pepper
METHOD
1. Heat oil in a frying over high heat. Add 1 packet of Sadia chicken shabu shabu cook until it is cooked through, approximately 2-3 minutes.
2.Add all ingredients for Pesto to a food processor and blend until well mixed and the basil is a paste-like consistency
3. Assemble your sandwiches by spreading some pesto on each side of the bread.Next, add your grilled chicken, tomato and mozzarella to one half of the bread then the top piece of bread. Repeat for remaining three sandwiches.
4. Spray each side of the sandwich with cooking spray, close your grill/panini cover and squeeze down to form marks on the bread. The sandwich is done when it's golden brown and the cheese is melted.
Chicken Shabu Shabu
Popular Recipes