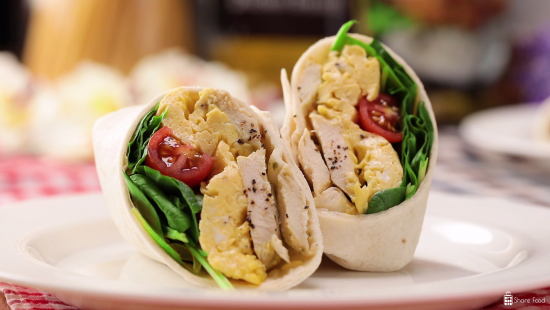 Lemony Greek Yoghurt Chicken Wrap

25 mins

4 SERVINGS
INGREDIENTS
1 pack Sadia Lemony Greek Yogurt Chicken
4 wraps
4 eggs
4 tbsp whole milk
1 knob butter
1 avocado
80g baby spinach
160g cherry tomatoes
1/8 tsp salt
1/8 tsp pepper
METHOD
Reheat chicken in oven for 15 minutes at 200oC.
Slice tomatoes into halves.
Remove pit from avocado and use a spoon to peel. Slice it into strips.
Beat eggs with milk, season with salt and pepper.
Heat pan on medium low heat with butter. Pour egg into pan and push eggs inwards to the side of the pan to scramble eggs. When almost set, remove from heat. Residual heat will continue to cook eggs.
Lay out wrap on serving plate and place handful of spinach on it. Add cherry tomato, divide the egg into equal portion and lay on top of the cherry tomatoes. Add avocado slices. Slice chicken and lay it over the avocado.
Lemony Greek Yoghurt Grilled Chicken Breast
Popular Recipes