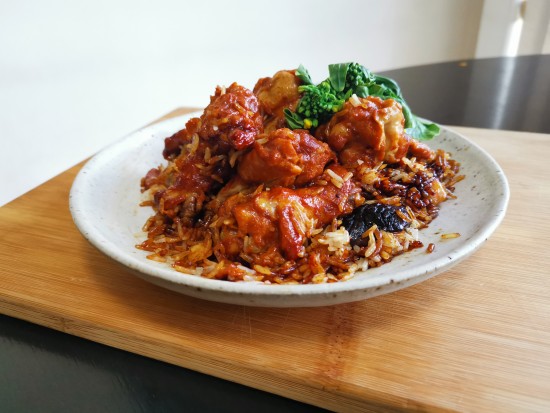 Mala Wings Claypot Rice

30 mins

5-6 SERVINGS
INGREDIENTS
1 packet Sadia Sichuan Mala Chicken Wings
3 cloves garlic, peeled and smashed
Thumb size piece of ginger, peeled and sliced
3 cups rice
3 cups water
6 pieces of dried shitake mushrooms, soaked in water and sliced
100g frozen scallops (optional)
1 lup cheong, cut into small dice (halal options available eg Kizmiq)
Oriental Chicken Sausage
3 tablespoon fish sauce
1 tablespoon dark caramel sauce
2 tablespoon vegetable oil
1 tablespoon sesame oil
METHOD
Heat the vegetable oil in a pan together with ginger, mushrooms, scallops, lup cheong and garlic.
Add washed rice to the pan and saute until opaque.
Deglaze pan with the fish sauce and water.
Place the rice mixture into the rice cooker together with the mala chicken wings on the top and cook.
When ready, drizzle the sesame oil and dark caramel sauce over the rice. Fluff rice and serve.
Sichuan Mala Chicken Wings
Popular Recipes