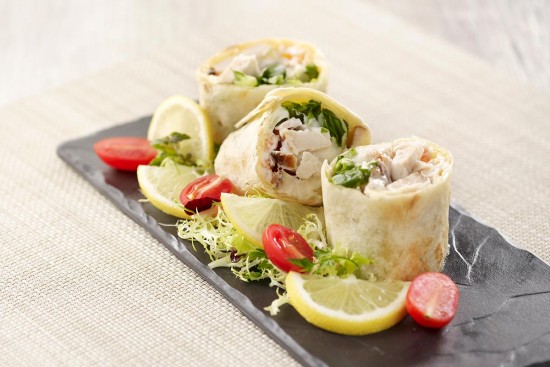 Mexican Chicken Wrap

NOT AVAILABLE

5 SERVINGS
INGREDIENTS
Marinade:
Olive Oil 50gm
Cajun Spice 30gm
Paprika 10gm
Fresh Thyme, 3 stalks
Garlic, sliced 20gm
Salt 20gm
For the wrap:
Mozzarella Cheese 50gm
Lettuce Slice 30gm
Tomato Slice 50gm
Chicken Breast 500gm
Mayonnaise 80gm
5 Tortilla Wraps
METHOD
Pan sear chicken breast (skin first) on a pan, bake in oven for 25 mins at 100°C. Cut into slices.
Place tortilla wrap on a hot pan, add in cheese and remove from pan after cheese has melted
Place sliced chicken, lettuce, tomato & mayonnaise on the wrap and roll tightly
Cut into 4 parts each. Ready to serve.
One by One Chicken Breast (Skinless)
Popular Recipes