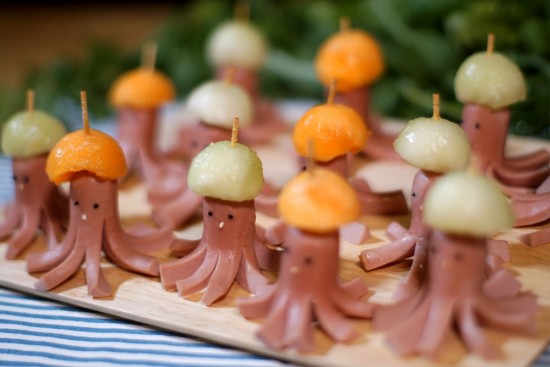 Octopus Franks

20 mins

10 SERVINGS
INGREDIENTS
10 Sadia chicken franks
1/2 cantaloupe (deseeded)
1/2 honeydew (deseeded)
Black sesame seeds
White sesame seeds
METHOD
Use a melon baller or a spoon to make 5-10 cantaloupe and honeydew balls.
Slice Sadia chicken franks in half. Take the flat side of the frank halves and further slice them lengthwise in four places to make the octopus legs.
Bring a pot of water to boil on medium heat. Cook the franks until the "legs" flare out. Drain and set aside to cool.
Using a toothpick, poke 2 holes on the top half of the octopus franks and carefully put in black sesames as eyes.
Repeat with white sesame for mouths.
Assemble octopus franks using a toothpick by placing a melon ball on top of each frank half.
Tips:
The kid-friendly presentation of this dish will make it a favorite amongst children. Fresh fruit combined with Sadia's less salty tasting chicken franks makes for a healthy and balanced snack for all ages
Chicken Franks
Popular Recipes