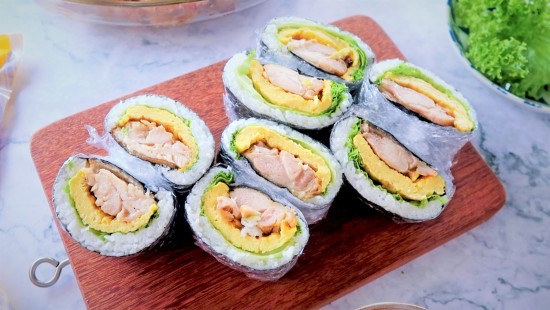 Onigirazu

30 mins

4 SERVINGS
INGREDIENTS
1 piece of Sadia honey roasted chicken leg
1 cup of cooked rice (cooled)
4 eggs
4 pieces of dried nori seaweed
4 pieces of lettuce
Oil for pan-frying
METHOD
Crack eggs into a bowl and whisk well. Pan fry the eggs into an omelette.
Heat up Sadia's honey roasted chicken leg in a pan for 12 minutes.
Prepare a clean sheet of cling wrap and place a dried nori seaweed on top.
Add 4-5 tablespoons of rice on the dried nori seaweed in a diamond shape
Lay fillings (lettuce, egg and chicken) over the layer of rice.
Close up 4 corners of the nori seaweed.
When all corners are folded closed, seal the Onigirazu with the cling wrap.
Cut into half and serve.
Honey Roasted Chicken Leg
Popular Recipes