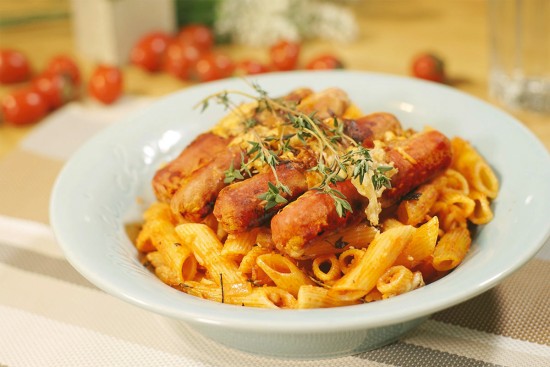 Spicy Penne Bake with Chicken Franks

30 mins

2 SERVINGS
INGREDIENTS
200g of penne pasta
4 Sadia Chicken Franks
2 stalks of thyme
10 cherry tomatoes, halved
¼ onion, diced
3 cloves of garlic, minced
200ml can of chopped tomatoes
2 teaspoons of chili oil
1 tablespoon of tomato paste
10ml of whipping cream
2 tablespoons shredded parmesan cheese
Seasoning:
¼ teaspoon of salt
½ teaspoon of sugar
A dash of black pepper
METHOD
Cook penne pasta for 7-8 minutes until al dente (or according to instructions on the box). Drain and set aside.
Heat up some oil in a frying pan. Pan-fry chicken franks and thyme on medium heat until the franks turn golden brown. Set aside.
Heat up some oil in a frying pan. Saute onions, garlic and cherry tomatoes on medium heat until fragrant.
Add in tomato paste, sugar, chili oil, chopped tomatoes, cream, salt and black pepper. Stir well on medium heat.
Add cooked penne into tomato sauce mixture.
Layer the penne, thyme and chicken franks onto a baking dish approximately 15cm in diameter. Sprinkle shredded parmesan cheese on top.
Preheat the oven to 220°C. Bake the dish until the cheese is melted and golden brown.
Tips:
Fresh thyme can be found at most supermarkets, vegetable stalls, wet markets and spice stores. Adding thyme to the dish gives it an authentic Italian touch.
If you prefer a simpler version, substitute fresh thyme with dried Italian herbs instead.
Chicken Franks
Popular Recipes